80 to 200 mesh pulverizers can be cost-effective with Raymond mills.
The new type of Raymond mill equipment is the mill equipment supplied by CLIRIK for the non-metallic mineral milling field.
Adjusted before 80-400 mesh, 80 to 200 mesh pulverizer equipment, with the advantages of high output, high efficiency, energy-saving, and consumption reduction, helps powder enterprises to create benefits.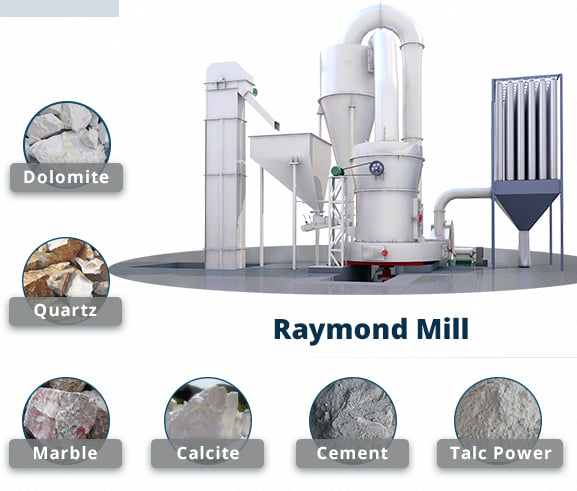 1. Advantages and characteristics of Raymond mill
Raymond mill is updated mill equipment with a number of patented technologies, which can be used for dolomite, marble, limestone, barite, titanium dioxide, bauxite, kaolin, diabase, and other powder processing markets, the grinding fineness is between 80-400 mesh, and customers can adjust it according to their needs. This equipment effectively improves the unit output of single equipment and reduces the energy consumption per unit output, which is a lot The favorite mill equipment for non-metallic mineral powder projects.
[Scope of application]: The pulverizer covers a number of patented technologies and is a technological innovation based on the R-type pulverizer. It is widely used in electric power, metallurgy, cement, chemicals, building materials, coatings, paper, rubber, medicine, food, and other production and living areas.
[Performance advantage]: The pulverizer is replacement equipment for traditional pulverizers. It has a wide range of uses, simple operation, convenient maintenance, stable performance, and high-cost performance. The output is 30%-40% higher than that of the traditional Raymond mill. It is economical and practical milling equipment.
[Applicable materials]: High-yield and the efficient grinding ability for various non-metallic minerals with Mohs hardness below 7 and humidity within 6%, such as talc, calcite, calcium carbonate, dolomite, potassium feldspar, bentonite, kaolin, graphite, carbon, fluorite, brucite, and other grinding effects are good.
2. How much is a Raymond mill?
As a manufacturer, we provide tailor-made services, formulate reasonable mill selection and configuration plans and pulverizer prices according to customer needs, and help the powder market create benefits. To grind 80-200 mesh powder, the 80-200 mesh pulverizer is used for high grinding efficiency, lower energy consumption, and the advantages of energy-saving and consumption reduction, helping powder processing projects to create benefits.
3. How Raymond mill works?
After the Raymond mill breaks the bulk raw materials to the required feed particle size, the materials are transported to the storage bin by the dustpan elevator, and then evenly sent to the grinding chamber of the main machine by the electromagnetic vibration feeder.
The materials entering the grinding chamber are ground between the grinding roller and the grinding ring.
The ground powder is brought to the analyzer for classification by the air flow of the fan.
The fine powder meeting the fineness requirements flows through the pipeline into the large cyclone collector for separation and collection,
The finished product is discharged through the unloader.
4. Various Raymond Mill models
Model

Roller

Ring

Feeding




Size




(mm)

Finished




Size




(mm)

Mill




System




Power




(KW)

Capacity




(t/h)

Overall




Dimension




(mm)

Quantity




(piece)

Diameter




(mm)

Height




(mm)

Inner




Diameter




(mm)

Height




(mm)

YGM7815

3
260
150
780
150
15
0.613-0.033
35.7
1-3
4300*3500*5100

YGM

9517

4
310
170
950
170
25
0.613-0.033
72.65
2.1-5.6
7100*5900*7900

YGM

1280

3
370
240
1170
240
20
0.613-0.033
145.15
4.5-12
9300*5600*8200

YGM

1300

4
410
280
1270
280
20
0.613-0.033
202.15
6.5-16
9100*8200*8400

YGM

1620

4
450
300
1500
300
20
0.613-0.033
322.2
8-20
12500*5700*10500

YGM

1720

4
510
300
1720
300
35
0.613-0.033
450
10.5-28
11550*9500*10500
Notice: Any change of YGM9517 Raymond Mil technical data shall not be advised additionally.
Shanghai Clirik Machinery Co., Ltd. is a professional manufacturer of stone powder grinding mills, which can process stone powder fineness ranging from 30 to 3000 mesh. Welcome to contact us to get the latest quotation.
Email: sales@clirik.com
WhatsApp: +8613512155195