The current there are so many raymond mill manufacturer in China.Shanghai Clirik Machinery Co., Ltd, located in Pudong New Area of Shanghai, China, is a large professional raymond mill manufacturer with import & export rights specializing in research, manufacture and sales of crushing machinery, mining equipment, and grinding machines, such as micro powder grinding mills, ultrafine mills,raymond mill , stone grinder mills, hammer crushers, jaw crushers and associated accessories. The grinding mills and crushers are widely applied in metallurgy, hydraulic engineering, mining, chemical, construction, coal, refractory, ceramic and other industries.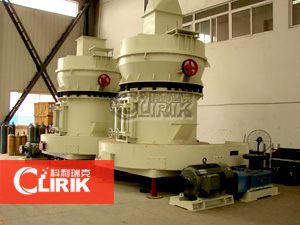 Raymond Mill introduced:
Raymond Mill is a powder mill,Raymond mill applies to all kinds of ore preparation, coal preparation, such as powder processing raw ore, gypsum ore, coal and other materials. From the appearance look like a steel container erected, there inlet, outlet, central parts of the inlet. Raymond mill stick rotation centerline is upright.
Raymond Mill Price description:
Raymond mill of its models have YGM8314, YGM9517, YGM4121, YGM1600 and YGM7815, is to adapt to small and medium mining, chemicals, building materials, metallurgy, refractory materials, pharmaceuticals, cement and other industries highly efficient closed loop fine system powder equipment. Different models of Raymond mill price differences, I suggest you according to your requirements such as product fineness, product yield and procurement budgets to choose the right model and then considering whether to accept the price Raymond.
Raymond mill works:
When Raymond mill (Raymond) work will be broken into large lumps of raw materials needed to feed size, by the bucket elevator to transport materials to Raymond storage silos, and then by the electromagnetic vibrating feeder evenly to the host of Raymond mill interior, into the Raymond mill chamber material is shovel blade into the ground to be crushed between the roller and grinding ring blower blown air from the bypass tray grinding chamber. Which is located in the lower end of the roller, the roller blade and turn the course of the same material scooped between the grinding and polishing the feed roller ring, forming a litter layer, the abrasive layer by Raymond mill rolls outward rotation of the pressing force the material is crushed, so as to achieve the purpose flour.
Prev:Raymond mill in limestone grinding application