In the Fall, the air is dry than other seasons. Here Clirik
Raymond mill manufacturer
remands customer should pay attention to avoid workshop fire.
According to Nantong Reuters Sept. 13 2 pm, a production workshop located in the zone of Krider Machinery Co., Ltd. a production machines in operation due to failure suspected sudden fire. Accidents caused by someone's production facilities within the enterprise suffered. Thankfully there were no casualties.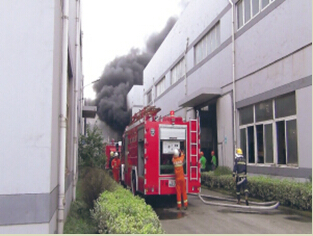 "I do not know the flame is coming from, suddenly bursts of smoke emerge from a workshop production of the machine, then, the jump out of the smoke plumes. Growing flames continued to spread to the surrounding, burned the speed quickly, "stood outside the workshop witnessed the accident Wang said:" after seeing the fire, some workers also want to fight the blaze from the water source, you can fire more fierce, smoky growing almost all enveloped the workshop, there is no time to dispose it. "

After receiving the alarm, the police immediately rushed to the scene. City Fire Brigade Jianghai full-time fire department, fire squadron Zone King Hing, fire brigade dispatched joint development zone enterprises and more fire engines, more than 20 fire officers and soldiers rushed to the scene. About 30 minutes later, the fire was completely extinguished. Due to the disposal of timely, effective fighting, the fire did not spread to other production plants, causing no casualties.

It is understood Krider Nantong Tong Sheng Machinery Co., Ltd. is located in South Zone and Jianghai Road junction, specializing in the production of automotive fasteners. Currently, the cause of this fire occurred, the fire department is still under investigation.

After read this news, i believe our customer must aware the importance of fire prevention. Anyway, if there are any question of
Raymond mill manufacturer
, please feel free to consult me.
Contact person: Alice Tao
Hot-line: 0086-21-20236178
Prev:Rusty Has Large Impact on Raymond Mill Lifetime