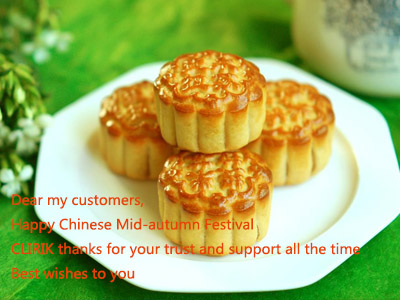 Mid-autumn Festival is coming, We are happy that we will usher 3 days national holiday. so today we will share a legend about why eat moon cakes in Mid-autum Festival. Still Shanghai Clirik Machinery Co., Ltd.
Raymond mill
manufaturer
all staffs wish my customers enjoy your Mid-autumn Festival.
It is said that Chang'e flied to the moon without choice, but she is miss her husband very much, and also her husband who named Hou Yi also hope to see his wife again. One day, a fairy moved by their love, so he points to Hou Yi if In the full moon night of August 15, he makes flour to pills like the shape of the moon, puting them in the northwest of the house, and then calling Chang'e's name three times. In the middle of night, Chang'e can go home reunion. Hou Yi did so, and he really saw his wife Chang'e coming from the moon coming. Then the couple can stay together. This flour to make a circle group later evolved into all kinds of moon cakes.
Okay, the story ends. Do you want to eat moon cakes? There are many kinds of moon cakes today, such as lotus moon cake, nuts moon cakes, chocolate moon cakes, etc,. All of them are delicious. Wow! I can not help to eating my moon cakes. If any other questions of
Raymond mill
,
Please do not forget contact us. You can dial our hot-line: 0086-021-20236178 or click
alice@clirik.com
to send email to us.
Prev:Raymond Mill Price Depends on Its Quality