Based on most advanced technology in the world and years of production experiences, Raymond roller Mill is designed and developed by our company.
CLIRIK
Raymond grinding mill, Raymond roller mill
is suitable for processing various non-flammable and non-explosive mineral materials with Moh's hardness less than 9.3 and humidity less than 6%, it is widely used in the fields of metallurgy, construction, chemical industry, mining, highway construction etc,. The granularity of the finished powder size can be adjusted between 50 and 325 mesh (315-45 micron). Examples of processing materials include quartz, feldspar, barite, calcite carbonate, limestone, talc, ceramic, iron ore, carborundum, bauxite, rock phosphate, coal and other materials, total about 400 kinds of materials.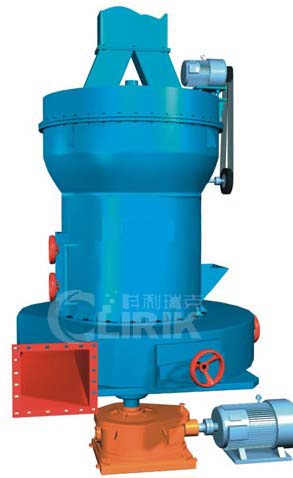 Advantages of Raymond roller Mill:
1. With three-dimensional structure, small floor space, and complete set of equipment, Raymond roller Mill is an independent system from oversized materials to finished powder.
2. The fineness of finished products is uniform. The sieving rate reaches 99 %, which is difficult for other mill equipment.
3. The gearing of Raymond roller Mill adopts sealed gear box and band pulley, which transmits smoothly and operates reliably.
4. The important parts are made of high quality steel. Wear parts are made of high wear-resistant materials. The overall machine has strong wear resistance and operates reliably.
5. The electric system of Raymond roller Mill adopts centralized control. Unmanned operation of workshop becomes a reality.
Main Structures of Raymond roller Mill:
Raymond roller Mill is mainly composed of main engine, analyzer, blower, cyclone for finished product, cyclone for powder and wind pipe. Among them, the main engine consists of rack, inlet volute, blade, roller, grinding ring, and cover.
Prev:Raymond roller mill for coal gangue grinding