Calcium Carbonate Powder Uses :
Calcite is a kind of carbonate mineral and the most stable polymorph of calcium carbonate (CaCO3). The calcite has Mohs hardness of 3 and gravity of 2.71 with white color.
Calcite Powder is widely used in industries and has very high value.
In the paint industry, the coarser calcium carbonate powder can be used as the simple fillers and influence the gloss and whiteness;fine calcium carbonate powder acts as the extenders.
In the plastic industry, the calcium carbonate powder can improve the rigidity, tensile strength and impact strength.
In the film industry, the fine calcium carbonate powder can make the formulation cost lower and make the processing speeds faster.
How to get the Calcium Carbonate powder
The rollers tightly rolled on the ring under the effect of centrifugal force. Shovel sends material between the roller and ring and the material is grinded into powder under the high pressure.Then the fan blows the power up into the analyzer. At this time, the power material met the fineness requirement get through the analyzer and get into the power cyclone separator while the others will be sent back for re-grinding.The whole system is airtight circulation.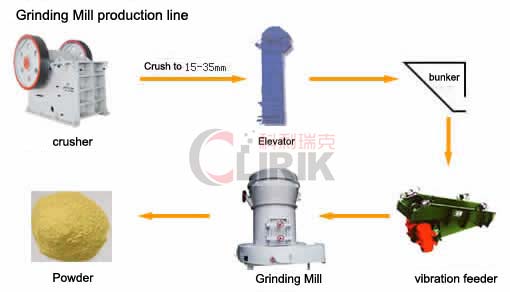 Calcium Carbonate powder making machine,Calcium Carbonate powder processing plant
Shanghai Clirik Machinery Co., Ltd is a large professional manufacturer of Raymond grinding mill,The Clirik Raymond grinding mill have five models: YGM7815,YGM8314,YGM9517,YGM4121,MTM1600.
The Raymond grinding mill is widely used in small and medium mining, chemicals, building materials, metallurgy, refractories, pharmaceuticals, cement and other industries.
Raw Material:such as gypsum, talc, calcite, limestone, marble, barite, dolomite, granite, kaolin, bauxite, fly ash , oxidation iron oxide red, iron ore, etc.
Output size:30 - 425 mesh
Raymond grinding mill
can process Calcium Carbonate into different specifications, fineness and output and it is especially suitable for the processing and production of Calcium Carbonate powders. Compared with common powder grinding mills, this equipment has high efficiency, low electricity consumption, small coverage size and one-time investment. The final granularity of Raymond grinding mill produced by Clirik Machinery can be arbitrarily adjusted in the range of 30-425 mesh and some materials can reach 2000 mesh so that the Calcium Carbonate powders can meet the fineness requirement in the market, so that it is ideal Calcium Carbonate powder processing equipment.if you are interested in our powder grinding mill,please contact us.
Prev:Raymond grinding mill advantages and disadvantages
Next:The bentonite powder can be processed by Clirik raymond grind