Gypsum Raymond Mill
is suitable to grind the material with middle and low hardness such as limestone, dolomite, kaolin, talc, mica, bentonite. It is widely used in the industries like paper, rubber, plastic, packing, cosmetic, chemical products and so on.
Clirik Gypsum Raymond Mill For Gypsum Powder Production Line Process technology:
Gypsum powder production line (natural gypsum) uses advanced processing equipment such as ball mill,
Raymond mill
, vertical mill, trapezium mill, boiling furnace etc.
The Crusher will break the big-size gypsum ore into small 25mm pieces, and then the small pieces will ne sent to the raymond mill, after grinding fine, the qualified raw gypsum powder will be sent to boiling furnace to calcine, and the unqualified part will be sent to grinder until it's qualified. After calcining, the qualified gypsum powder will be sent to storage or workshop.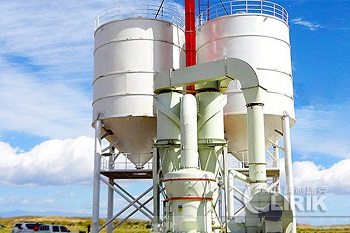 Working Principle of Gypsum Raymond Mill:
The standard configuration of YGM Gypsum Raymond Mill consists of main unit, reducer, powder classifier, cyclone powder collector, dust cleaner, blower, control cabinet motor and pipes. The optional accessories include crusher, bucket elevator, feeder.
Big materials are crushed by jaw crusher to the required particle sizes, and carried by bucket elevator to the storage hopper, and are fed evenly and continuously by vibrating feeder into the main unit for grinding. The grinded powder are carried by the airflow from the blower to the classifier to be classified, the particles which meet the fineness enter cyclone collector through pipe, and are separated and collected there. They are discharged at the discharging valve to become finished products; The airflow is sucked to the blower by return pipe on the top of cyclone collector. The whole airflow system is a sealed circulation, and is circulated under positive and negative air pressure.
Gypsum powder grinding equipment for sale
Clirik Machinery supply Ball mill , raymond mill , ultrafine mill , vertical mill is suitable for gypsum powder grinding solutions .If you have any questions, please do not hesitate to contact me.
Prev:100 mesh Limestone Raymond Mill Production Line
Next:India Customer Visit Our Factory for Gypsum Raymond Mill