To get the 100mesh limestone powder, it needs to choose the suitable limestone grinding mill production line. As a professional supplier of limestone grinding mill , Clirik can provide various kinds of limestone grinding mills for sale. The YGM limestone raymond mill for sale can be used as the 100mesh limestone powder grinding. The 100mesh limestone raymond mill is based on the traditional grinding mill machine and it adopts the clients' suggestions and requirements to produce. It can replace the R type Raymond mill, ball mill and other traditional grinding mill in the grinding process to meet clients' production needs and it will be sold with reasonable price.
As we all know, the Raymond mill can grind materials into 80mesh or fine size. The MTM trapezium grinding mill will be used as the 100mesh limestone grinding mill. Different materials need different grinding mill to process the materials. You can show Clirik your specific production requirements and we will design the most suitable limestone grinding mill production line to you all.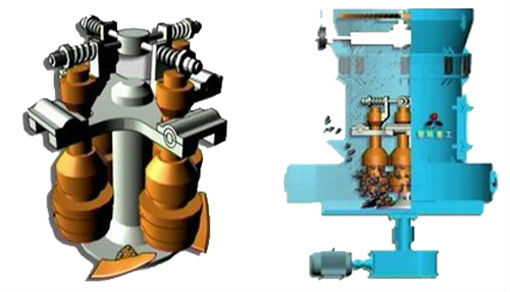 Structure of limestone Raymond mill
limestone Raymond mill(Rammond roller mill) is mainly composed of main unit, analyzer, fan, dischargeing cyclone separator, powder cyclone separator and air duct. Among them, the main unit consists of frame, blow shell, shovel, grinding roller and grinding ring.Working principle of limestone Raymond mill

The rollers tightly rolled on the ring under the effect of centrifugal force. Shovel sends material between the roller and ring and the material is grinded into powder under the high pressure.Then the fan blows the power up into the analyzer. At this time, the power material met the fineness requirement get through the analyzer and get into the power cyclone separator while the others will be sent back for re-grinding.The whole system is airtight circulation.
Limestone Raymond Mill Production Line Features
The 100mesh limestone raymond grinding mill machine used in grinding limestone production line has large crushing ratio and high production ability. With low power consumption, the final limestone materials will have uniform fineness. With simple and compact structure, this machine is very convenient to maintain. With less investment cost price, it is welcomed by clients.
Prev:How long To Replace Raymond Roller Mill Parts
Next:Clirik Gypsum Raymond Mill For Gypsum Powder Production Line