Feldspar is a mineral-like substance, after the industrial grinding mill processed into powder, can be widely used in industrial sectors and areas of potash ceramic body, ceramic glazes, glass, porcelain, abrasive materials.

If you want to process 200 mesh potassium feldspar powder,the clirik grinding mill have more and more choice, we recommend that feldspar Raymond mill and high-pressure grinding mill, these two different processing capacity, high pressure mill is stronger, the user can according to their own production to choose the right equipment.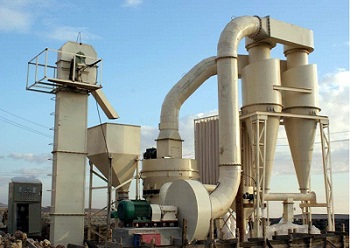 Potassium Feldspar Powder Processing Plant:
>> Jaw crusher: output fineness 10-105mm, capacity 90t/h
>> Hammer crusher: output fineness smaller than 25mm, capacity 45t/h
>> Box-type crusher: input fineness 600-800mm, output fineness smaller than 50mm, capacity 160t/h
>> European coarse powder mill: output size below 3mm, capacity 100t/h
>> YGM Feldspar Raymond Mill: output size between 15-425meshes
>> HGM three-ring micro powder grinding mill: output size between 200-3000meshes (can be adjusted)

YGM series Feldspar Raymond Mill is designed and manufactured by shanghai clirik machinery, is the new type grinding equipment specializing in producing fine and superfine powder of non-inflammable, non-explosive and brittle materials with Mohs' hardness under six, such as calcite, chalk, limestone, dolomite, kaolin, bentonite, talc, mica, magnesite, illite, pyrophyllite and vermiculite, sepiolite, attapulgite, rectorite, diatomite, barite, gypsum, alunite, graphite, fluorite, rock phosphate, kalium ore, pumice, etc., totally more than 100 kinds of materials.

As a professional Feldspar Raymond Mill manufacturer, CLirik is specializing in the production of various types on feldspar grinding mill equipment, the company has a factory equipment spot, users can spot test machine.
Prev:Clirik Vertical Raymond Roller Mill Makes Micro Powder More Easily
Next:Indian customers came to our company for inspecting Micro Powder Grinding Mill.