As an important piece of Grinding equipment in construction industry, Vertical Raymond roller mill has great development significance. Clirik Machinery Vertical Raymond roller mill is updated, improved and designed on the basis of large-sized Vertical Raymond roller mill and it is suitable for producing all kinds of ore powders and pulverized coal such as raw ore, gypsum mineral, coal and other materials.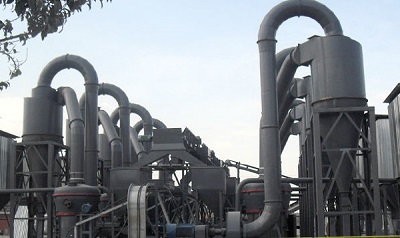 The main parts of Vertical Raymond roller mill include main engine, analytical engine, air blower, plumbing part, electrical machine and cyclone separator for final products. Jaw crusher, bucket elevator and electromagnetic vibrating feeder are the auxiliary equipment of Vertical Raymond roller mill. Users can make their own choices according to the specific working environment.

Vertical Raymond​ roller mill plays a dominant role in the process of turning materials into finished products. When it works, the materials that need to be crushed are fed into the machine through the feeding hopper. The grinding roll that hangs on the main engine will rotate around the vertical axis and rotates around itself. Due to the centrifugal force produced in the rotating process, the grinding roll will swings outward and tightly press onto the grinding ring to make the relieving tool scoop up the materials and send them to the space between the grinding roll and the grinding ring, and the materials will be crushed due to the rolling and grinding of the grinding roll.

Vertical Raymond roller mill produced by Clirik Machinery is a very famous brand in China. Its main performance characteristics are small floor area, strong complete set, an independent production system from lump materials to finished products, high efficiency, low power consumption, less one-off investment, high wear-resisting performance and reliable operation.
Prev:The advantages of the high-pressure raymond roller mill
Next:200 Mesh Potassium Feldspar Powder Processing Plant-Feldspar Raymond Mill