Petroleum coke is a petroleum refining process the very end of "waste", from the appearance point of view, which is irregular in shape and sizes black block (or particles), if not after processing use is not too big, but after further processing use a very wide range. This article will take a look at how it is done in the petroleum coke star Raymond's help "change" has become the new energy.
In today's post-oil era of scarce resources, petroleum coke by grinding mill processed into petroleum coke powder, replace oil as a fuel is to achieve waste utilization, the development of recycling economy, good material. Petroleum coke powder substitute oil technology is currently in a good new energy discoveries and breakthroughs.
Petroleum coke processing into petroleum coke powder, can replace pulverized coal and oil as fuel. Calorific value of petroleum coke is about 8300 ~ 8600kcal / kg, heavy oil calorific value 9500 ~ 10000kcal / kg, burning 1.1 to 1.2 tons of petroleum coke powder with 1 ton heavy oil calorific value considerably. Petroleum coke powder heavy oil as a fuel substitute, in the case of heat is generated about the same, the use of petroleum coke powder as fuel cost far less than heavy, very substantial economic benefits.
How to grind Petroleum coke in Raymond Mill
Petroleum coke crusher for primary crushing by, and then by the dryer for drying (some do not need drying), and finally by Raymond mill grinding, petroleum coke powder made in line with customer requirements, by the conveyor system quantitative continuous, uniform and stable injected into the furnace for combustion.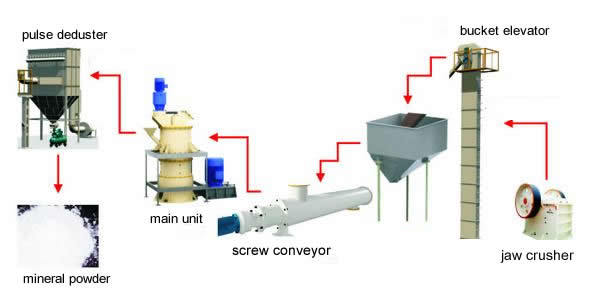 Raymond mill
is widely used in the petroleum coke flour, petroleum coke flour is popular devices. Clirik
Raymond mil
l adopt advanced structure of similar products at home and abroad, and to update the industry on the basis of the improvements designed by Raymond, the device is higher than the ball mill efficiency, low power consumption, small footprint, one-time investment small. Roller centrifugal force of the tightly compacted in the grinding ring, so when the roller, grinding ring wear to a certain thickness does not affect the yield and fineness of the finished product. Roller, grinding ring replacement cycle is long, thus excluding the wearing parts centrifugal mill short replacement cycle defects. Aircraft winnowing fan airflow is - mill shell - Cyclone - circulation fan inside job, so less dust than the high-speed centrifugal mill, operating plant clean, environmental pollution.
CLirik Machinery provides petroleum coke grinding Mill and other processing equipment, including crushers, dryers, conveyors, packing Machine etc. Clirik can supply Vertical Roller mill,Raymond Mill,Ball Mill,Ultrafine mill,Hammer mill used for petroleum coke grinding,one-stop shopping for all your needs, heart to heart service, from your worries sale. Choose Clirik, wise choice!
Prev:Traditional Raymond mill exist the problems and shortcomings
Next:Clirik Barite Raymond Mill For Barite Powder Grinding Production Line